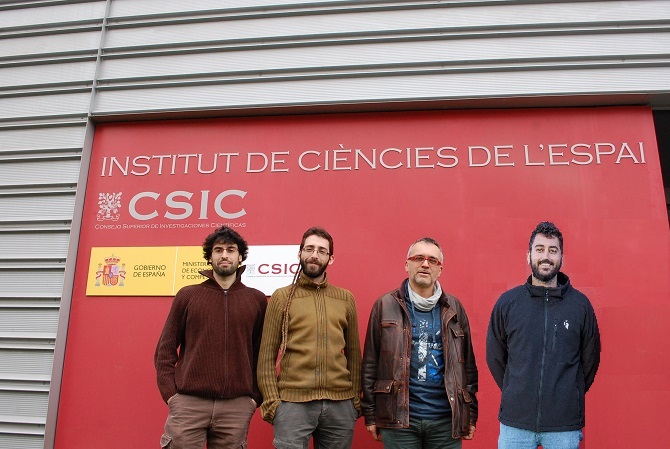 Grupo de Investigación sobre Meteoritos, Cuerpos Menores y Ciencias Planetarias del Instituto de Ciencias del Espacio (CSIC-IEEC), P.I. Dr. Josep Maria Trigo-Rodríguez
MICROMECENAZGO / CROWDFUNDING (for English read below)

---
Muchos de vosotros/as os preguntáis en qué medida podéis apoyar la actividad investigadora de nuestro Grupo de Investigación sobre Meteoritos, Cuerpos Menores y Ciencias Planetarias del ICE (CSIC-IEEC) . Estamos abiertos al posible mecenazgo para el desarrollo de tesis doctorales de nuestros jóvenes investigadores . Contactad con nosotros para estudiar la acción a emprender.
Con vuestra desinteresada aportación esperamos paliar los recortes en financiación para la contratación de estudiantes de doctorado. No llevaríamos adelante esta iniciativa sino tuviesemos excelentes candidatos pero que desgraciadamente, si no paliamos este problema de financiación pronto, deberán dedicarse a otros menesteres. Con vuestro apoyo, mantendremos la investigación pionera sobre asteroides, cometas y meteoritos que realiza nuestro grupo en el nivel que se merece.
Para ejemplificar el nivel de trabajo y el esfuerzo de nuestros estudiantes nos permitimos aquí enlazar las publicaciones arbitradas a nivel internacional que el Astrophysical Data System nos atribuye.
---
HOW TO CONTRIBUTE TO OUR RESEARCH GROUP CROWDFUNDING?
Many of you wonder to what extent the research activities of our ICE Research Group on meteorites, small bodies, and planetary sciences can be supported. We have started a crowdfunding initiative in order to hire young master students for completing their Ph.D. thesis, through donations from individuals and enterprises around the world. We are just exploring a new source of financing young researchers in front of current Spanish Government cut policies. If you want to cooperate, just contact us and we will study which action can be made to help our students.
With your generous contributions we hope to offset current fundings cuts for the recruitment of doctoral students. We wouldn't forward this initiative but have excellent Ph.D. candidates. If we cannot solve this funding problem soon, our students must devote themselves to other things. With your support, we will keep our outstanding research on asteroids, comets, and meteorites at the level that it deserves.
To illustrate the level of work and effort of our Ph.D. students we share here the link to the international peer-reviewed publications that the Astrophysical Data System search (ADS) attributes to our group.
At our ICE clean microscopy laboratory studying Allan Hills 77307 carbonaceous chondrite, one of the most primitive NASA Antarctic meteorites deposited at ICE (CSIC-IEEC)
---
Our young researchers are partially sponsored by:
E-mail: Dr. Josep M. Trigo (CSIC-IEEC)